Do you sell gift vouchers?
Yes, we do sell gift vouchers!
You can purchase your vouchers over the phone, via email, through our social media platforms, or buy a gift voucher online. 
Gift Wrapped and looking all lovely…
Our gift-wrapping service
 We use our beautifully designed voucher wallets from BoxMart UK. We gift wrap them with a beautiful bow, and we can post them to you to give to the lucky recipient or post them directly to whoever you are gifting your voucher to. 
Personalisation
We can add a personalised note for you. Let us know what you want to say to the person you are giving the voucher to.  
Environmental promise
Our voucher wallets and personalised notes are printed on recycled cardboard materials, and once you are finished with them, they will go into your recycling bin at home. We are working on a circular method to recycle the voucher wallets, and we will let you know on here when that is ready. But we can promise that our voucher wallets are fully recyclable in either mixed recycling or cardboard recycling bins. 
The price
Our gift-wrapping service costs £3.95 to mail out and/or £2 per gift-wrapped item. So, if you are buying multiple vouchers and we are mailing them out individually, you would pay £3.95 for the first item and £2 after that for each additional item. If you spend over £500, we do not charge gift wrapping or postage. Our gift vouchers are sent out via first-class Royal Mail. 
How it will look
Check out pictures and our video below to see how your voucher will look…
Online gift vouchers
Our online gift vouchers are so straightforward! We have put a link just above this post so you can see for yourself. The gift vouchers are available via our online gift voucher platform, Gifted.  
Convenience:
You can shop for online vouchers 24/7; our online gift voucher shop is always open.
Cost Savings:
There is no delivery charge or gift wrapping service, significantly reduced environmental impact, and they still look great!
Comfort:
There is no need to pick up a phone; you can take your time, choose the suitable voucher for you and all from the comfort of your sofa, lounging around the pool on holiday, toilet, or whatever suits you! 
Personalisation:
The same level of personalisation is available on our online vouchers as in-house. Add your message when prompted, and you can leave a lovely personalised message for the lucky recipient. 
Privacy:
Our online voucher platform is totally secure. We use the payment provider Stripe. You can check out their credentials by clicking here. 
How long will it take and What will it look like:
It can take less than a minute you can see the process from the video below and there is an image of a sample voucher below. The vouchers can be emailed to the purchaser or direct to the recipient with a lovely personalised message.  The voucher is emailed across as a PDF pretty much instantly.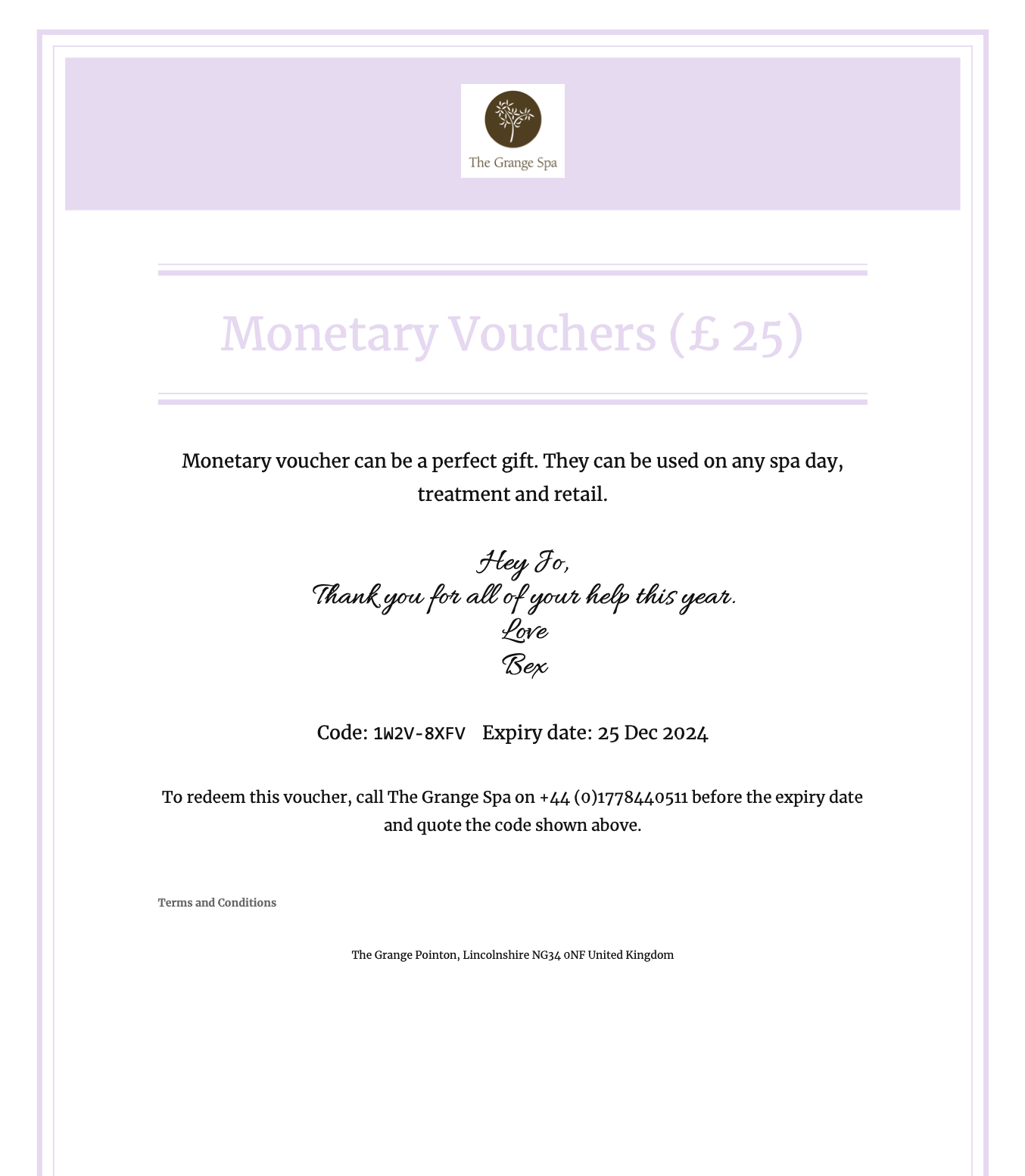 How can I purchase a spa experience
At The Grange Spa we have tried to make it as easy as possible, you can book your spa experience online, check out our spa experiences, purchase a voucher or take a look at our facilities, we even have a snazzy video. A spa day is a great way to relax, reconnect or just take some much-needed time out.